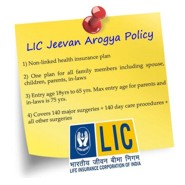 LIC launches new health insurance plan 'Jeevan Arogya'
NASHIK: Life Insurance Corporation of India ( LIC) is launching its new non-linked health insurance plan 'Jeevan Arogya' from tomorrow offering comprehensive hospitalisation benefits for the family of the principal insured.
The feature of this plan is that it offers to cover parents and in-laws of the principal insured besides spouse and minor children, Senior Divisional Manager Sudhakar Joshi told reporters.
He said this is a defined benefit policy meaning that benefits are fixed in terms of policy conditions and are payable irrespective of the actual amount spent on treatment.